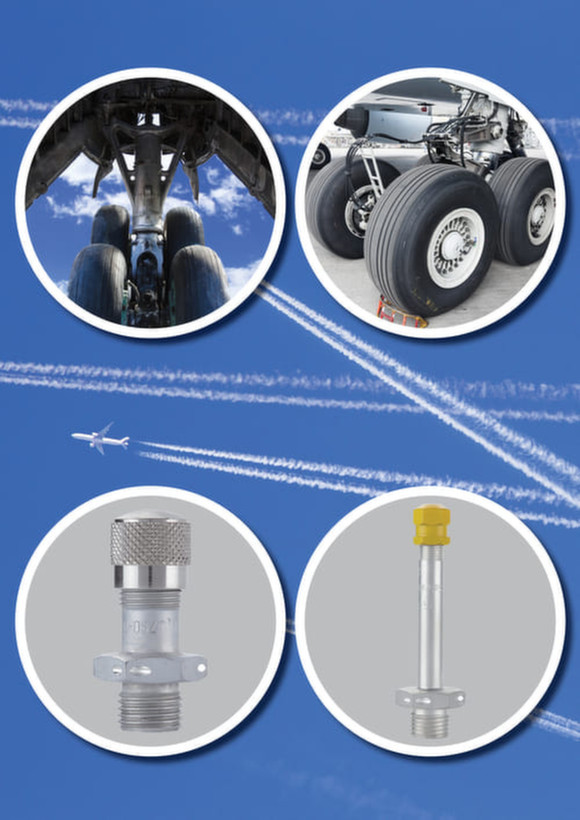 Aircraft wheel inflation valves manufactured by Schrader Pacific Advanced Valves allow inflation, deflation and pressure control of aircraft wheels.
Aircraft wheel valves conforming to the most demanding standards
The manufacturing of aircraft wheel inflation valves takes advantage of an excellent production quality in our dedicated workshop with extensive controls in order to guarantee the best performances as well as the highest level of quality in accordance with very demanding customer requirements. Our aircraft wheel valves ensure a perfect sealing in all conditions of use required by severe temperature and/or pressure environments.
The inflation valves meet customer requirements as well as aeronautical standards (TRA type TR761-03 or TR761-03L or TR756-03L or TR752-03 or TR753-03, MS type MS27436-C1 or MS27436-C2)
High pressure inflation fittings
In addition to the inflation valve portfolio, Schrader Pacific Advanced Valves offers a range of inflation fittings for high pressures from 3,000 PSI (207 bar) to 15,000 PSI (1034 bar).
These fittings meet the connection requirements, either for aircraft hydraulic valves or for aircraft wheel inflation valves (NATO profile).
In addition to aircraft wheel valves manufacturing, we also offer hydraulic valves for brake systems as well as landing gear valves.