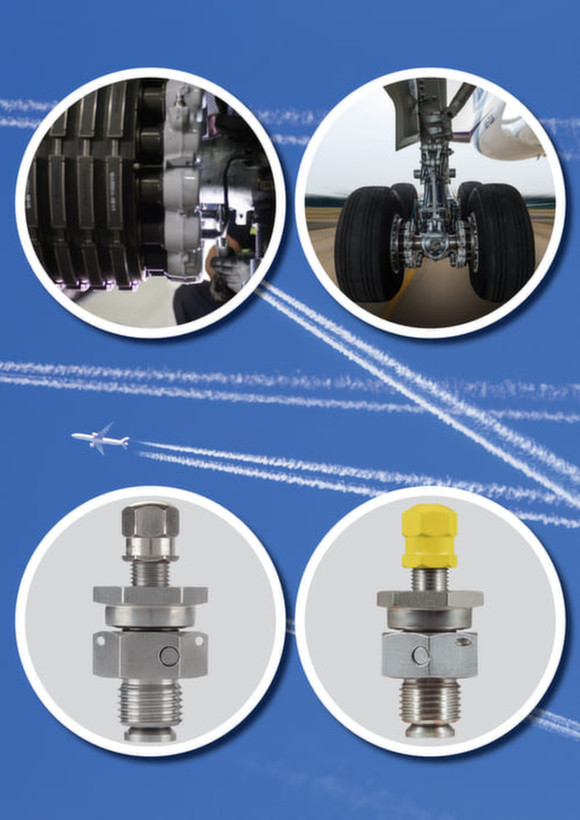 The valves for the aircraft brake hydraulic system are designed to allow filling and bleeding of the system while maintaining the highest level of performance after installation and handling (opening and closing). These hydraulic valves ensure the tightness of the circuit in all conditions of use required by aircrafts.
Brake valves that meet the aeronautical industry requirements
Our valves are manufactured according to aeronautical standards (such as MIL-PRF6164 or MS28889-2) of major customers (Tier-1 or aircraft manufacturers) and can be used, among other things, with fluids such as "Skydrol 500A" or "NSA 307110" or "SAE AS1241".
Schrader Pacific Advanced Valves are produced in a dedicated workshop and take full advantage of an excellent manufacturing quality, very strict controls in terms of functionality and tightness. The extremely rigorous high-pressure tests and controls of each valve (80 bar, 100 bar, 280 bar and 350 bar) guarantee a flawless tightness of all the delivered valves.
In addition to the manufacturing of valves for brake hydraulic systems, Schrader Pacific Advanced also offers valves for aircraft wheels as well as valves for landing gear.